Hotels & Restaurants
Your Guests expect you to offer a high standard of creativity and top-class culinary performance. At the same time, in both hotels and restaurants, standardised workflows and a specialised offering are of major importance in order to be able to successfully run your business. Opt for special menu diversity and impress your guests with a strong selection of popular side dishes such as our Agrarfrost Wedges.
Agrarfrost offers you premium-quality potato products specially tailored to your needs. Our products are suitable as a delicious side dish or main course for any occasion, at any time of day and at any time of the year. Beyond that, Agrarfrost products offer a high level of convenience and cost efficiency in your kitchen, e.g. due to simple and easy portioning and reduced product wastage.
Time saving, reliable success and scope for your own creativity are common to all the professional products from Agrarfrost. They do not only provide highest quality, but are also very easy to refine in order to suit individual needs and requirements.
Our ADVICE:
Agrarfrost 'KRIXX' is an innovative top-class product that offers you and your kitchen a good example of an excellent blend of culinary delights, convenience and cost efficiency: it provides fantastic portion sizes with lower product input. KRIXX features a unique cut that provides for an exceptionally crunchy taste experience. These attributes generate added value for your menu, your kitchen and your staff.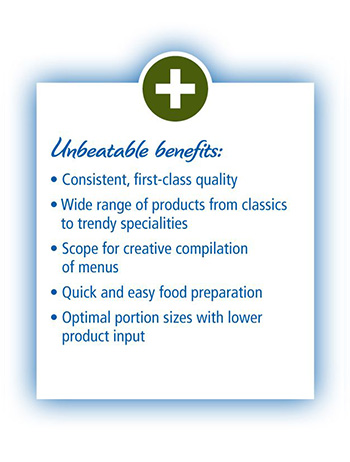 Here you will find other attractive solutions that are specially geared to your needs: